The download cards have just arrived for my new holiday single: The More The Merrier.
I am offering 5 download cards for just $4. You can give them as tiny gifts as gift tags or put them in your holiday cards.
sale - just $5 each
or 3 for $10 (they make great gifts!)
Each signed copy of Winter now comes with a download card for the new holiday single:
The More The Merrier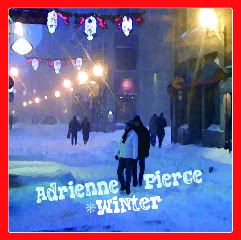 2008 Insectgirl Records
Tracklisting for Winter:
1. All That We Want
2. Raise Our Voices Up
3. Christmas Time Is Here
4. Making Angels
5. Joy Is Within Reach
6. Put A Little Love In Your Heart
This is my holiday album and it is made up of four original songs and two covers.
Jewel Case with one page insert.
I will send you a free digital (two song) Fall EP with any purchase from my online shop until November 30th.
This store works well with Safari or Firefox. I recommend using either of those browsers. If you have problems please let me know and I will sort it out for you ASAP.
Email me: info@adriennepierce.com
2010 Insectgirl Records
Tracklisting for Oh Deer:
1. Amargosa Hotel
2. Black Sand
3. Museum
4. Monsters
5. Three Hours Ago
6. Arc De Triomphe
7. Nightswimming
8. Guilty Of Everything
9. Come Over To My House
10. Winner Takes All
11. Let's Pretend
12. Telescope

1x Glass Mastering. Digipack with 8 page booklet including all lyrics.
Recycled paper and plastic.
Vegetable ink dyes.
2007 Nettwerk Records
Tracklisting for Faultline:
1. Beautiful
2. Downside Of Love
3. Better Year
4. Fool's Gold
5. I Don't Know
6. Laundry Dishes
7. Reaching For Me
8. Lost And Found
9. Under That Cloud
10. One Perfect Day
11. Faultline
12. Walk Through Me
13. Better Things To Do
Jewel Case with insert.
sale - just $8 for a limited time
2004 Insectgirl Records
Tracklisting for Small Fires:
1. Arizona
2. Falling Asleep
3. What You're Wishing For
4. Sylvia
5. Insectgirl
6. Death By Water
7. Small
8. Psycho Therapist
9. Absinthe Minded
10. Every Sprinkler
11. It's You
This is my first full length album. It was recorded in 2002 and copies were sold off the stage etc. In 2004 it was re-released and distributed in Canada.
Jewel Case with insert with lyrics.